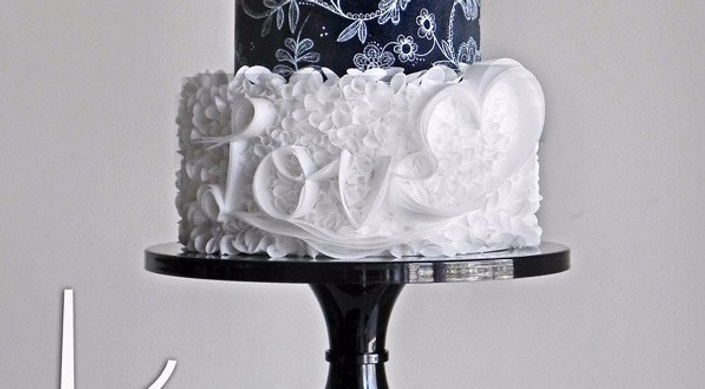 Wafer Love Ruffles and Hand Painted Lace
Learn Kara's Signature Texture Wrap technique to add this ethereal look at any elegant cake design!
Wafer Love Ruffles (and hand painted lace)
Wafer paper is one of THE BEST materials to make seemingly impossible texture designs with on cake! It's fast, easy, can be done well in advance eliminating that last minute sugar design rush, and the possibilities are endless!

My signature wrap technique makes this cake a CINCH to make! This technique can be reimagined in so many ways and incorporated into your own designs for impossible light, fluffy, highly textured cakes!
Never worked with wafer paper before?

You'll be pleasantly SHOCKED at how easy and economical it is! A tiny brush of water is all it takes to make an instant bond. ZERO setting time compared to sugar pastes! It's thinner than you'll ever get sugar paste making it look impossible to be edible (and it is!). And the best part, it makes you look like a sugar magician. Instant cake rockstar status with your friends, family, followers and clients!

49 pages, 120+ full color images
This step-by-step PDF tutorial walks you through every aspect of perfectly recreating this design from tools and materials to the little things that will make your designs unique and special.
Learn to make versatile and impressive wraps for your cake, best practices if you're making them ahead, and the two applications that make serving a breeze!
Hand painting lace my way is simple and you can replicate any custom lace pattern you wish, or you can just use the template I've provided with the design I created just for you!
With so many possibilities you'll be able to impress your wedding clients every time with ethereal designs that you create! Use my style, or make your own signature look. Either way, you'll be making gorgeous wafer cakes right away!
Order now and I'll deliver this straight to your email inbox! I know you'll love it and be making awesome cakes with these techniques straight away! Don't forget to email me with pictures of your projects and tag me on social media so I can see them all and cheer you on. :)
*Please note: this is a PDF only tutorial*