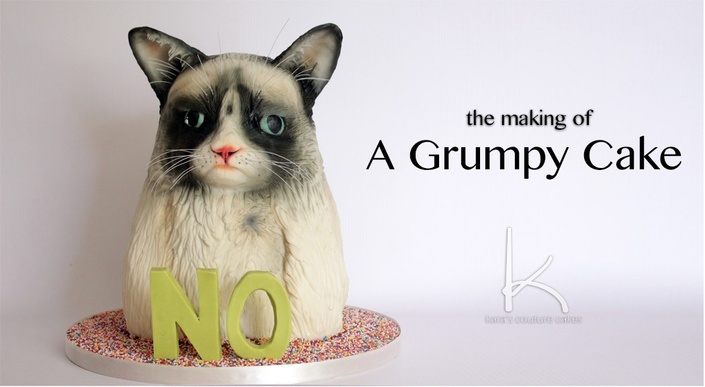 Template Making and Use: The Making of a Grumpy Cake
Learn to make blueprints for any sculpted cake to get the right dimensions and proportions for the most realistic replica in cake!
How to Make Anything into Real Cake - Including Grumpy Cakes
If you want to make your favorite real life character or meme into a proportionally correct replica in edible cake, you need to know templates! Let's work on making Grumpy Cat and I'll show you how to use templates to recreate your favorite characters true to size. Add in some great detail and texture techniques and you'll be ready to make any fun critter your heart desires - and the eat it!
Learn to make a template to replicate ANY real life form you wish, grumpy or not.

If recreating images in cake intimidates you...
...then I've got just the technique to make it easier and help you get the accuracy you're looking for! Real life templates! This is a great starter project as shape and sculpting is simple but after this tutorial you'll have all the tools you need to sculpt any cake your heart desires!
Discover when to use subtractive sculpting versus additive sculpting with cake. It's easy to do, but knowing when to use each can make any sculpting project a breeze. And the right choice makes all of those fine details stand out even more :)
Successfully make to-scale cake templates to create your own unique blueprints of images for your cake creations. These are essential when wanting to get the right proportions, shapes, and sizes when replicating anything you see. This is a technique I use over and over with every novelty cake I make. It's indispensable in my arsenal of cake knowledge.
Video, recipes, resources, and more
You'll get a PDF companion with all the recipes and resources you'll need to recreate this adorably unhappy yet delicious cake.
They'll want to pet your cake!
Make it look real and no one will want to cut it. In fact, they'll want to pet it. But don't worry, since you know how delicious it is inside, you can reassure them that it's just as great to eat as it is to look at!
Purchase now to get instant access! I know you'll love it and be making awesome cakes with these techniques straight away! Don't forget to email me with pictures of your projects and tag me on social media so I can see them all and cheer you on! :)