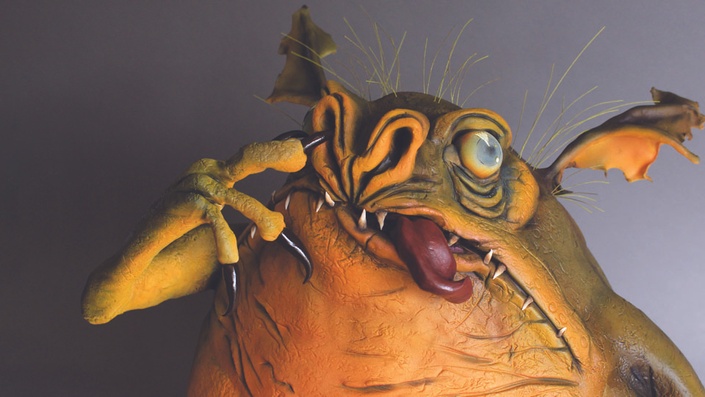 Impressive Sugar Showpiece Techniques: Peter, Peter Booger Eater
Learn impressive detail techniques to elevate any cake you make and stand out from the crowd!
Peter, Peter, Booger Eater
The making of a sugar showpiece! Learn how to decorate and finish an impressive sugar showpiece just as you would a cake or as a display for a cake show. It's fun to get a little gross, but these techniques are great for a HUGE variety of sculpted cakes. Cute or yucky critters, you'll be making them that much more awesome after watching Peter come to life!
Learn the texture and finishing tricks behind the small details that take this showpiece cake from good to WOW!

It's great that you can sculpt a cake, but do you know how to bring it to life?
Small details make all the difference and using some unconventional techniques opens the door to more realistic, convincing, and fun cakes and show pieces!
Airbrushing, glazing, and more!
Applying color with dusts alone can be both boring and exhaustive on a large piece like Peter. Combine both along and save time while getting a better result!
Create intriguing texture
There is endless possibility within your own kitchen for creating touchable textures in sugar. Let me show you a few!
Watch over my shoulder as I bring out the best, and grossest, features in Peter! Learn the tools and techniques in real time right along with me.
Or use these techniques on your own design to make something cute and cuddly. Whatever works for you! EIther way, you're sure to impress!
Purchase this now and get instant access! I know you'll love it and be making awesome cakes with these tips and tricks straight away. Don't forget to email me with pictures of your projects and tag me on social media so I can see them all and cheer you on! :)


***Please note that this tutorial does not include the creation of structure or sculpting. It begins with a ready-to-cover base or RKT. If you want to learn sculpting, please check out The Making of a Grumpy Cake. If you want to learn structure AND sculpting, please have a look at Skull and Cross Bones ReMix.